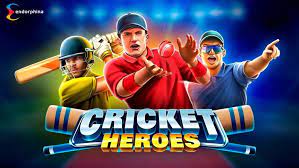 Leading slot games provider Endorphina recently launched a brand-new online slot game named Cricket Heroes.
Cricket Heroes is a game centered on the luxurious sport of the same name. It is a 5-reel online game that is all about the generous passion for team sports. The game also includes the combination of the oldest aristocratic traditions of the richest, together with the best and newest techniques in sports.
The slot game leads players into the most exciting and addictive sports battle yet. Players get the chance to join the leading cricket team using 21 paylines. They will also come across exciting challenges in landing Wild cricket balls and Prize Cup Scatter symbols.
The game features an assortment of bonus rounds. It rewards x3 multipliers, 45 bonus spins, and choices for gambling your wins. Generally, apart from cricket enthusiasts, every sports lover will also enjoy playing Cricket Heroes.
Cricket Heroes provides an average of 96% RTP. Players play across 5-reels which offer 21 ways to win.
"Cricket Heroes is a new 5-reel online slot. Its launch is the nobel passion for team sports," the Head of Endorphina said.
The entire Endorphina team associated with this slot game is very excited about how the players will welcome the game.