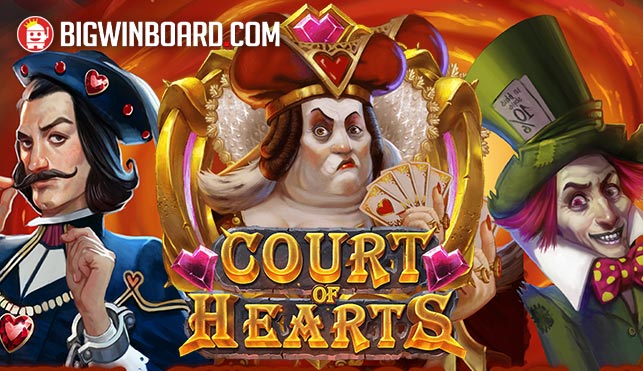 Leading gaming software provider Play'n GO continues to bless the igaming industry with top-tier entertainment as they announce the release of their new slot offer, Court of Hearts.
Court of Hearts is a follow up to their 2020 release Rabbit Hole Riches. Both games are set in Wonderland, the fictional country that appears in Lewis Carroll's classic novel Alice's Adventure in Wonderland.
Rabbit Hole Riches was lauded for its artistic design and rich narrative, and both those elements are being carried over into this exciting new sequel.
Court of Heart sees players travel back to Wonderland after the events in the first game. Players find themselves on a trial together with the Jack of Hearts for a crime neither of them have committed. When players help the Jack of Hearts prove his innocence, he'll share a part of Wonderland's riches to them.
Court of Heart is played on a 5×3 grid, but retains all the fun features from Rabbit Hole Riches for players to enjoy. The game also sees the return of the popular free spins where players win across the paylines increase the win multiplier all throughout the game without resetting.
"The overwhelming reaction to Rabbit Hole Riches, in particular, the praise for its design and narrative, meant we simply had to continue the story," Johan Törnqvist, Play'n GO CEO, said.
"Lewis Carroll's works have been reimagined several times throughout the years, so we felt it important to establish a distinct world for our creation and produce something truly entertaining, both visually and in gameplay," he added.