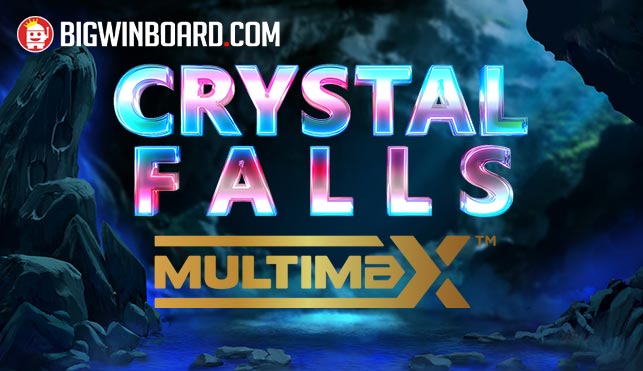 Leading online gaming content publisher Yggdrasil has unveiled its first YG Masters hit incorporating its exciting Game Engagement Mechanic (GEM) MultiMax™, Crystal Falls MultiMax™, in cooperation with Bulletproof Games.
The 3×5 slot comes with cascading reels, where all winning symbols are removed, which then allows new symbols to fall into their place. Cascade+ is a mechanic where the chaining of multiple wins increases players' position on the free spins trail—the higher they climb, the more spins are awarded to them.
Four or more successful cascades activte free spins, where the MultiMax™ mechanic comes to life. During the bonus round, every time a wild symbol lands, it increases the individual reels MultiMax™ multiplier, where each reel has its own multiplier count. Each payline win is then multiplied by all multipliers involved in each spin. The multiplier count is not reset untl the end of the free spins mode, with a total possible multipier of 3,125x.
Players have a chance to use the Encore Game Mode in Crystal Falls MultiMax™. This allows players to increase their free spins hit frequeney at a 50% more cost of their stake. By changing two losing positions into a respin, players get another chane to improve their trail position.
Crystal Falls MultiMax™ also features a Buy A Bonus option in certain jurisdictions. This option allows players to progress to free spins immediately.
"We are delighted with the performance of our GEMs which take gaming experiences to the next level and we are excited to introduce the first YG Masters title to feature our MultiMax™ mechanic," Stuart McCarthy, Yggdrasil Head of Product and Programs, said.
"Crystal Falls MultiMax™ brings excting gameplay filled with cascading wins, huge multipliers and plenty of additional player-centric features. With more cascades leading to even bigger wins, there is a huge win potential in this thrilling new addition to our portfolio," he added.
Bulletproof Games Technical Director Michael Bullock also commented, saying:
"Crystal Falls MultiMax™ has a very unique and electrifying gameplay experience created from the complimentary MultiMax™ and Cascade+ mechanics. With the addition of the Encore game mode, the player can chage the profile of the game to match their preference.
"The exceptional impact of the MultiMax™ multipliers in the free spins creates an increasingly thrilling feature where each new free spin is more valuable than the previous resulting in a massive win potential. We are delighted that Crystal Falls MultiMax™ is on the YG Masters program knowing that players across the globe can experience this special game," he added.